page
10 Years of Good Vibes and Great Clothes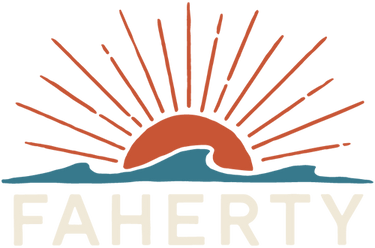 All-day surf sessions, road trips, bonfires on the beach… these are the things that have inspired us since the beginning, when Alex, Mike, and Kerry created a family-led brand built on the highest quality products, making things better, and always spreading good vibes. A decade later, the dream—and our family—just keeps growing. Join us on this epic journey.
Chief Executive Officer
Alex Faherty
Prior to starting at Faherty, Alex spent over a decade in finance. Formerly a football player at Yale, Alex takes a coaching mentality in how he runs the business, knowing that so much of a brand's success is who makes up the team. When he has time, and isn't coaching T-ball, he likes to surf.
Chief Impact Officer
Kerry Docherty
A lawyer with a background in human rights and mindfulness, Kerry leads our Impact and Native initiatives, which seek to make the clothing space better and to end appropriation in the fashion industry, respectively. She also uses Faherty's platform to create community and conversation through the event series, Sun Sessions, which spotlights good people doing good work. Her first children's book, "Somewhere, Right Now," was published by Flamingo Books in 2022.
Chief Creative Officer
Mike Faherty
Mike wrote his college essay about starting Faherty Brand, going on to major in Fashion Design at Washington University in St. Louis before spending a decade in New York's fashion industry. His passion is sourcing high-quality fabrics from around the world and developing innovative new ones himself. Mike loves playing basketball and finding off-the-beaten-track surf spots and restaurants.
Guarantee of Quality
We're crazy passionate about our product and design, which comes from Mike, who turned his childhood dream into Faherty. For Mike, every Faherty style has to be undeniably soft, incredibly comfortable, and exude a laid-back vibe. Not to mention well-crafted, especially because everything he designs is backed with a guarantee of quality.